August 24, 2023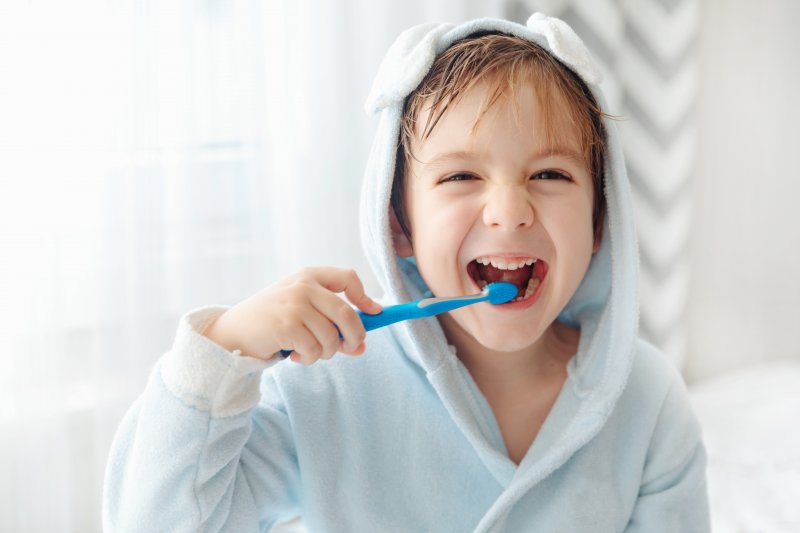 When they were babies, you likely brushed your kids' teeth for them. That's only natural – infants can't handle the task themselves. However, things change as your little ones grow up. It's best if they brush on their own once they're old enough. Luckily, your Willow Park pediatric dentist is here to make the transition easier. To that end, here are four great ways you might help your child brush their teeth.
Educate Them on Why Brushing Matters
If you want kids to brush their teeth, they'll need to know why brushing matters. (The "because I say so" approach usually doesn't work.) So, try your best to explain its value to them.
In particular, use simple terms to explain what happens if they don't brush. Their baby teeth will likely get painful cavities as plaque builds up. Worse yet, their gums could get infected and suffer unpleasant bleeding and swelling.
Once they know about the alternatives, most kids will willingly brush twice daily.
Show Them Proper Brushing Technique
You can't expect a child to brush if they don't know how. That being the case, take time to show proper brushing techniques to your kids.
To keep things easy, just review the basic rules of the habit. For example, show your kiddos how to use only a pea-sized amount of toothpaste. You can also exaggerate your movements to emphasize thorough cleaning. In fact, let them see you spit your toothpaste to signal that they shouldn't swallow it.
When kids see you brush your teeth this way, they'll pick up on how to brush their own.
Let Them Choose Their Own Toothbrush
No matter the age, no one likes being told what to do. So, it'd help to give your kids an active role in their brushing routine.
One good method to try is to let them pick their toothbrush. For instance, they might choose one with their favorite cartoon character. You could also encourage your little one to find a brush with a colorful pattern.
By involving your little ones in this process, they'll feel more engaged when they start brushing.
Turn Brushing into a Game
Kids don't like chores, so don't frame brushing that way to them. Instead, make it into something exciting by using games or music.
There are various ways you could go about this step. One is to play your child's favorite tune so they'll brush for the recommended time. Alternatively, you could set a timer and let them race to see who can remove the most "sugar bugs." Either way, you'd make brushing fun and get kids excited about oral health.
Ultimately, your efforts to help your child brush their teeth will pay off. That said, try the tips above or see a dentist for other suggestions.
About the Practice
Stroud Pediatric Dentistry is based in Willow Park, TX. Led by Drs. Casey Stroud and Michael Ball, our practice wants every kid to have a healthy smile. To that end, we offer the very best in pediatric dental care – dental checkups, sedation, emergency services, and more. Our team is also trained and equipped to help child patients with special needs. If you'd like more information or to book a visit, reach us on our website or by phone at (817)-441-2425.
Comments Off

on How to Help a Child Brush Their Teeth
No Comments
No comments yet.
RSS feed for comments on this post.
Sorry, the comment form is closed at this time.