Meet Your Experienced Willow Park Pediatric Dental Team
Our caring dentists aren't the only ones in the dental office who play a part in making your child's visit a positive experience. Our team members at the front desk, dental hygienists, and dental assistants all work hard every day to bring a confident smile to children's faces. You will likely meet us in person soon, but you can also learn more about our compassionate team by reading the information below.
Jayna, Surgery/Sedation Coordinator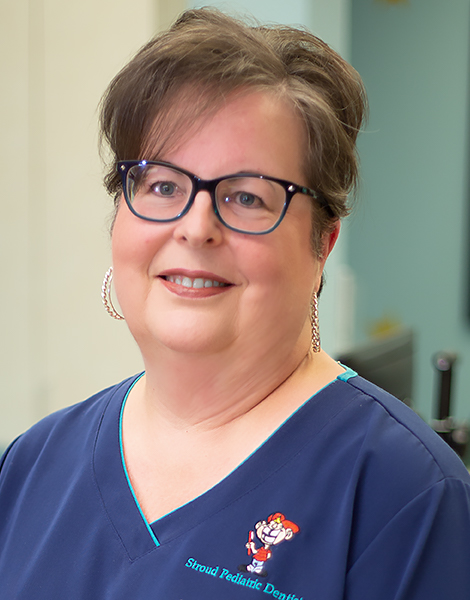 Jayna's career in dentistry covers 30+ years, and she's been a member of our team for over a decade so far. She loves working alongside such great gals every day, and seeing the children gradually grow up over time is such a rewarding experience.
A Benbrook native, Jayna and her husband have two wonderful daughters, two extra cute grandsons, one beautiful granddaughter, a dog named Bella, and a fish named Squirt. In her free time, she really enjoys singing, going to church, and flipping houses. Here's an interesting fact about her: she's actually recorded a full album of Gospel music!
Kari, Office Manager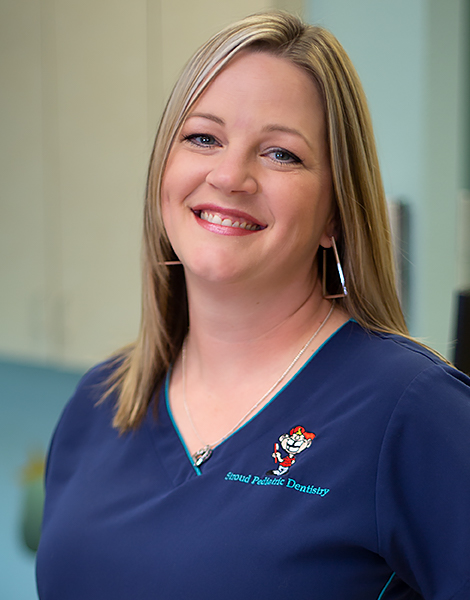 Kari is originally from Benbrook. Her career in oral healthcare covers nearly two full decades so far, with most of those years spent here at our dental office. She loves working with children and seeing them grow into wonderful young adults over the years!
Kari and her husband Adam have four children and one dog at home. In her free time, you can often find her cheering on her children and their various sporting events. She also bakes cake pops as a side business. Here's an interesting fact about her: she can name most songs in any movie!
Myka, Administrative Assistant/Registered Dental Assistant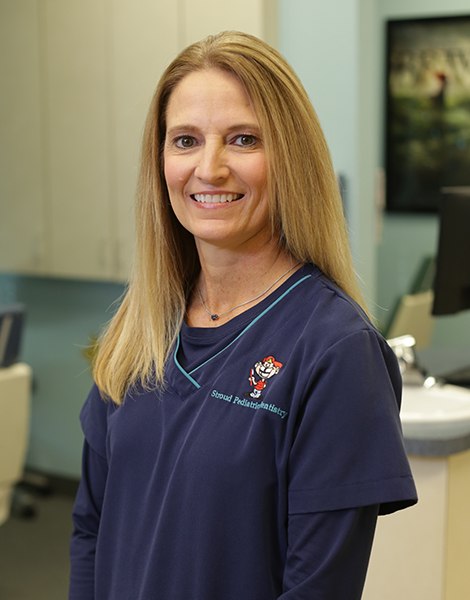 Myka hails from the Azle area, and she's been working in dentistry for a few years now. She attended both TCC and UNT for her college education; in addition to being an RDA, she's also a Certified K through 12 Physical Education teacher! Today, what she enjoys most about her position is working with children and always greeting the parents warmly during their appointments.
Myka and her husband have two children together, as well as a cat named Storm. In her spare time, she loves watching all football games (whether they're college-level or professional), boating, and water skiing. Here's an interesting fact about her: she's actually a survivor of breast cancer.
Rachel, Registered Dental Assistant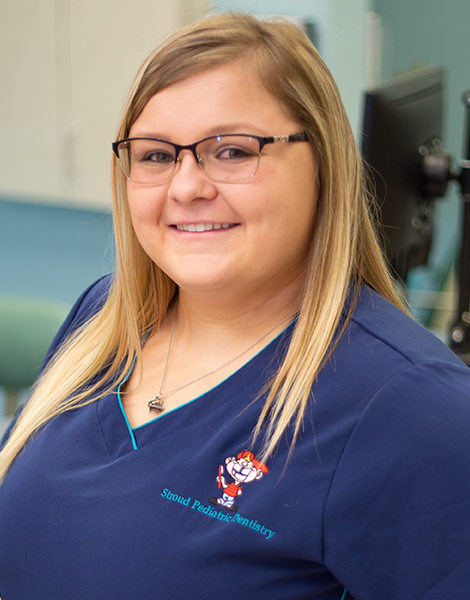 Rachel attended Weatherford College before completing her dental education at the Texas Academy of Dental Assisting. She is additionally trained in CPR/AED and nitrous oxide. She is a relatively new addition to our team and already loves getting to know each special kid in the treatment chair, as well as watching them grow! She always enjoys asking them about their day and seeing them light up with excitement as they talk about what's going on at school, their family, and more.
A Weatherford native, Rachel is very close with her family and spends a lot of free time hanging out with them during game nights, having dinner together, or going to their lake house. Her other hobbies include making custom t-shirts, car decals, and cup decals. Here's an interesting fact about her: while in high school, she recorded baseball stats and worked as a student athletic trainer for both the football and baseball teams.
Jana, Registered Dental Assistant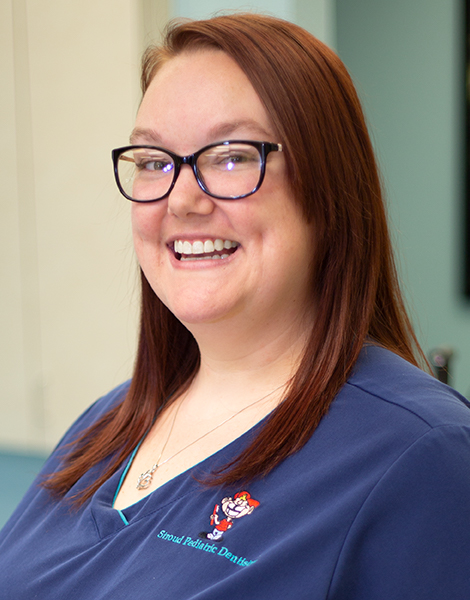 Jana's career in dentistry spans a full decade so far. She studied at the Career Centers of Texas and is certified in CPR/AED, nitrous oxide, and hospital-based dentistry. Today, what she enjoys most about her work is being able to help kids overcome their fear of the dentist's office for good!
Originally from Fort Worth, Jana is married to her best friend, and they have two beautiful (and crazy) children together. Thomas plays the trombone in the Intermediate Band, while Logan is always running around outdoors. In her spare time, she enjoys reading, going camping and fishing with the family, and keeping up with EVERYTHING superhero-related, including both the DC and the Marvel universe. She's visited 21 states out of 50 so far, with only 29 more to go.
Dianne, Registered Dental Hygienist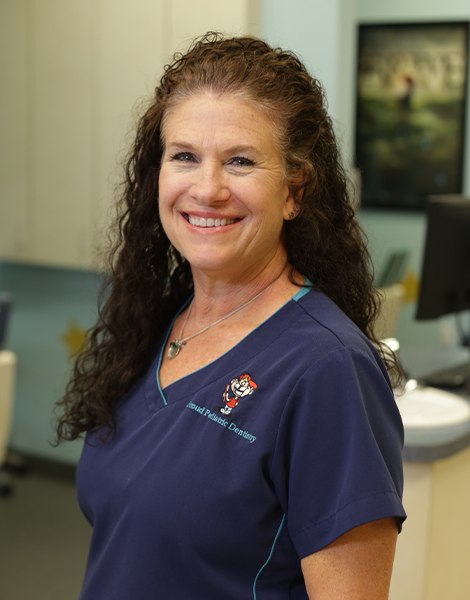 Dianne's career in dentistry impressively spans nearly 40 years, with the last few spent right here at Dr. Stroud's dental office. She studied at WCJC and has advanced training in nitrous oxide, CPR/AED, laser dentistry, dental restoration placement, and local anesthesia. She loves working in a pediatric dental office and spending so much time around children!
Originally from Eagle Lake, Dianne is married with four children and four grandchildren. When she isn't busy at work, her favorite hobbies include reading, running, going to the beach, and spending quality time with her loved ones. Here's an interesting fact about her: she lived in the U.S. Virgin Islands for several years and still visits the area often.
Maggie, Registered Dental Hygienist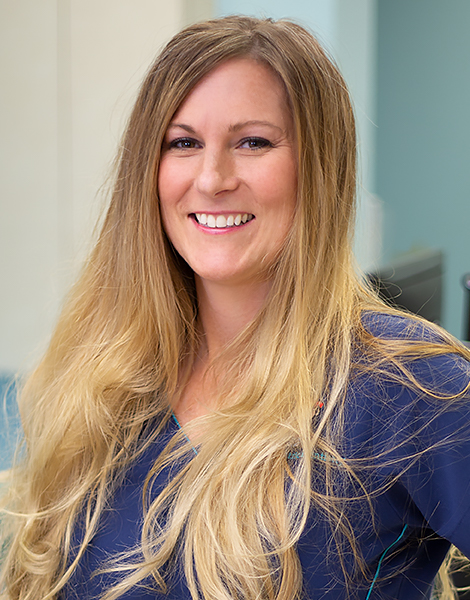 Originally from Electra, Maggie completed her education at Blinn College and is certified in nitrous oxide and laser dentistry. She has been working in dentistry for over 15 years and counting, having joined Stroud Pediatric Dentistry in the last couple of years. Today, what she enjoys most about her position is being able to help children have such a great and fun dental care experience!
Maggie is married and has three amazing kids at home. Her family stays very busy outside of working hours; most free time is spent running around to different dental offices and watching her children participate in lots and lots of activities. When she does get a moment to herself, she enjoys reading. Here's an interesting fact about her: she loves EVERYTHING Disney!
Maranda, Registered Dental Hygienist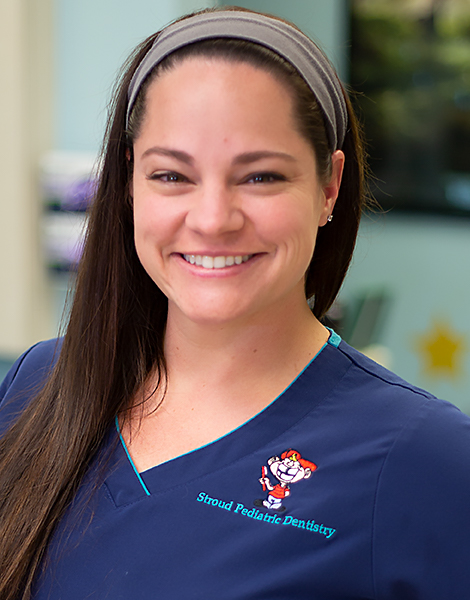 Originally from Godley, Maranda completed education at Tarrant County College and has been working in the dental field for nearly 15 years. She loves being able to give children a good experience in the treatment chair through her work. Seeing them leave with a big smile on their face is always rewarding!
At home, Maranda has two sons. Paxton really enjoys fishing and practicing his ninja skills, and Parker plays soccer and pretends to be Godzilla on a daily basis. When she isn't busy caring for smiles, she powerlifts 3-4 times a week and definitely has a passion for fitness. You can also usually find her traveling and hiking with her kids. One time, she wrestled an alligator and provided it with medical attention – she has the tooth to prove it! Her boys thought it was the craziest and coolest thing they'd ever seen.