Emergency Pediatric Dentist — Willow Park, TX
Quick & Comfortable Care for Hurting Smiles
Does your child love to stay active both in and outside of school? Are they just beginning their peewee league for football, baseball, or another contact sport? If so, you probably are already thinking about buying all the protective gear they need to stay safe. Of course, accidents can happen on and off the field, and dental injuries are not something you should put off treating when they appear. At Stroud Pediatric Dentistry, we do everything possible to make your child comfortable and treat them of their issue, whether it's caused by tooth decay or a physical injury. If your child's tooth is in pain or damaged, don't wait to call our dental office for pediatric emergency dentistry in Willow Park, TX!
Why Choose Stroud Pediatric Dentistry for Emergency Pediatric Dental Care?
Same-Day Emergency Appointments Often Available
Several Restorative Solutions to Save Damaged Teeth
Calming & Experienced Dental Team
What to Do in a Dental Emergency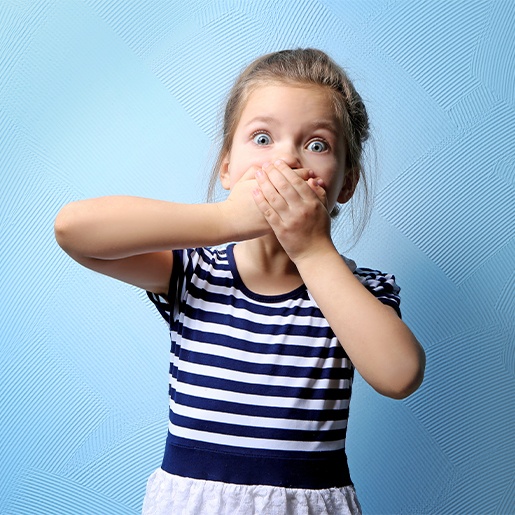 If your child experiences a dental emergency, it's your job as the parent to stay calm. After all, if you panic, so will they! Fortunately, in most situations, a quick trip to our office can have your little one treated and back to enjoying normal activiies in no time.
First, give our office a call. This way, we can schedule an emergency appointment for your child, ideally for that very same day. Additionally, one of our experienced team members will walk you through the steps you need to take to care for your child's smile until you can reach our office.
Next, you'll see your Willow Park emergency pediatric dentist. When you arrive, one of our dentists will see your little one right away for evaluation. Once they've gotten a better idea of the situation and provided any necessary pain relief, they'll review their findings with you and fully explain all your treatment options. This will include how they work, their pros and cons, and their estimated cost. Together, you'll create a treatment plan that's right for your child.
Finally, once a treatment plan has been made, we'll get to work! Our highly-trained team uses state-of-the-art technology to provide a wide variety of pediatric dental treatments that can restore your child's oral health in a dental emergency. We even offer calming nitrous oxide dental sedation to help children sit back and relax while we care for their pearly whites. Before you know it, they'll be enjoying a happy, healthy, and pain-free smile once again!
The Most Common Pediatric Dental Emergencies
Did your child break a tooth while playing sports or by biting down on something hard? Did they wake up in the middle of the night or first thing in the morning with a toothache that's brought them to tears? Dental emergencies come in all shapes and sizes, and it's not always easy to know when to call an emergency pediatric dentist in Willow Park. At Stroud Pediatric Dentistry, we trust your instincts as a parent. If your child is experiencing any painful or worrisome symptoms, don't hesitate to give us a call. We'll help you assess your child's situation over the phone and provide guidance on how to handle it. Below, you'll find some important information regarding the most common dental emergencies we treat!
Understanding the Cost of Treating Pediatric Dental Emergencies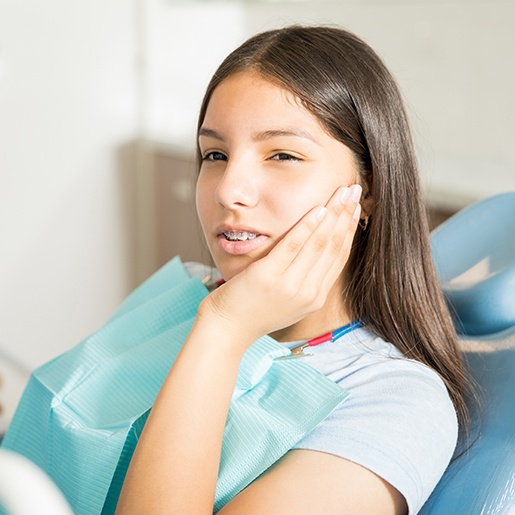 Providing a cost for your child's dental emergency is difficult to do without first examining your child's condition more closely. During their emergency appointment, we'll carefully examine their smile for issues, whether they be as minor as a moderate toothache or as serious as a knocked-out tooth. Both come with their own treatment plans which can vary in cost. The best thing you can do is come to our dental office, rather than assume the issue is not an emergency that will get better on its own.
Every Pediatric Dental Emergency Is Different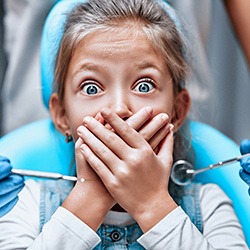 As mentioned earlier, we can't predict how much it'll cost to treat your child's dental emergency until we've had a chance to assess the situation. Some problems can be effectively treated with a simple treatment like a filling, while more severe cases may require complex procedures like a tooth extraction or nerve treatment. The necessary treatment method will greatly influence the overall price of your child's care. But don't worry – we'll thoroughly explain your options and the pricing information to ensure you know what to expect before committing to anything.
Does Dental Insurance Cover Pediatric Dental Emergencies?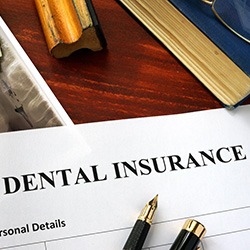 Most dental insurance plans do offer some form of coverage for pediatric dental emergencies. In many cases, at least one yearly emergency exam is fully covered while common services associated with hurting teeth (i.e., dental crowns, extractions, root canal therapy) can receive partial coverage. Of course, it's important to remember that every policy is unique. You should confirm the details of your child's coverage with your provider before seeking treatment. If needed, our team is more than happy to help with that process.
Taking Care of Your Smile Can Save Your Money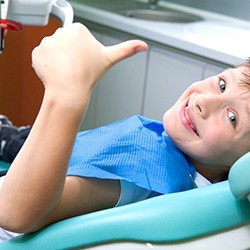 No matter how many precautions you take to protect your little one, some dental emergencies are unavoidable. The majority of them happen because of unchecked infection and damage. If your child is complaining about dental pain or a damaged tooth, you should take care of the problem right away to avoid needing to pay for more expensive and invasive treatments down the line. Proper dental care and routine checkups will help your child's smile stay healthy for years to come, saving you thousands of dollars over time!
How to Prevent Pediatric Dental Emergencies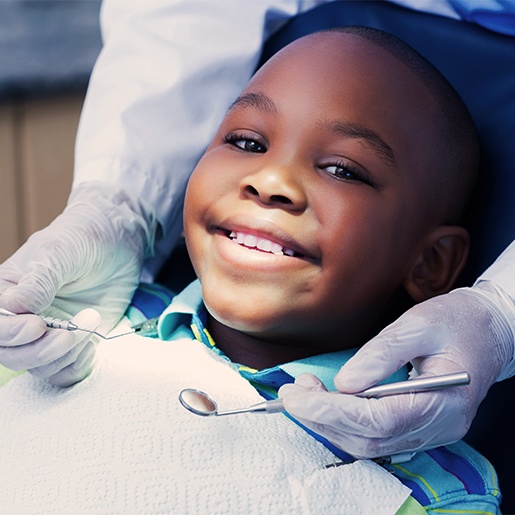 Preventing dental emergencies really begins by helping your child commit to routine brushing and flossing at home as well as routine checkups and cleanings at our dental office. This helps you prevent and catch dental problems before they turn into dental emergencies in the first place. However, if your child is active, make sure that they wear an athletic mouthguard to protect their smile. Avoid giving them food or beverages that contain high amounts of sugar. Do not let them keep a baby bottle in their crib or bed unless it only contains plain water. Read on for more of the best ways to prevent a pediatric dental emergency.
Be Mindful of What They Eat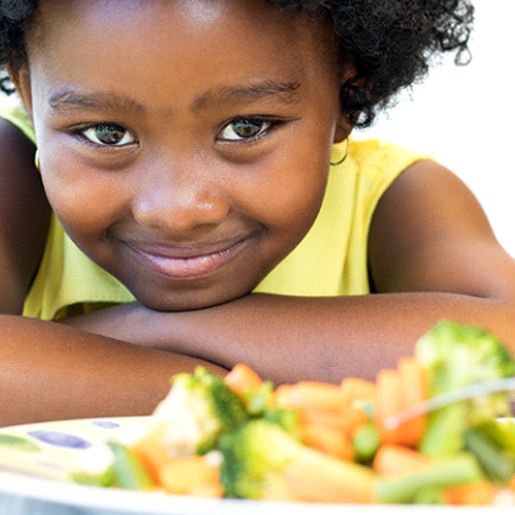 Too much sugar and starch are a bad thing. Not only can it lead to an increased risk of obesity and diabetes, but their teeth can become more susceptible to decay and cavities. It's important that your child maintains a well-balanced, nutrient-rich diet that consists of fruits, vegetables, leafy greens, lean proteins, and dairy. The combination of these food items can strengthen tooth enamel, encourage saliva production, and even reduce their chances of developing gum disease.
Protect Their Smile From Injury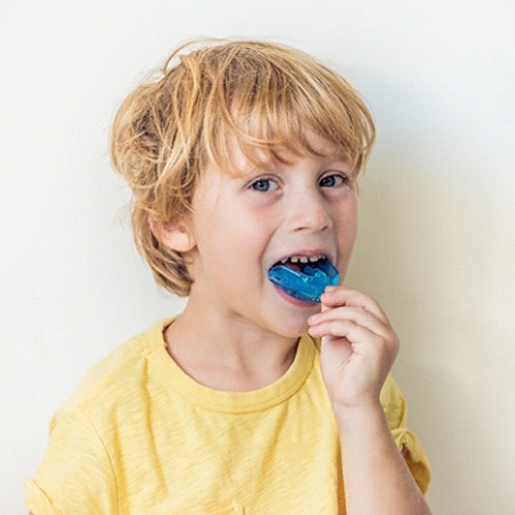 Bruxism and sports-related injuries are some of the most common causes of dental emergencies. When your child grinds or clenches their teeth at night, the enamel on their teeth can become quickly worn down and lead to chronic jaw pain (i.e. temporomandibular joint disorder or TMD). If you notice they are struggling with this common problem, talk to our team about a customized mouthguard that can be worn at night. This will prevent their teeth from coming into contact with each other as well as reduce and pain or discomfort felt in the jaw area.
Make Sure They're Cleaning Their Teeth & Gums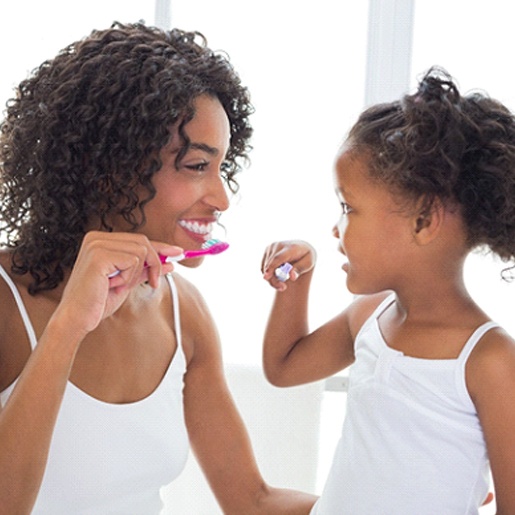 Children have a much more difficult time remembering to brush, floss, and rinse their teeth. Until they are able to safely and effectively clean their own smile, it is best if you help them. By observing them during their morning and nighttime routine, you can make sure they are brushing for a full two minutes, using the appropriate amount of fluoride toothpaste, flossing correctly, and rinsing. This regular regime will ensure their teeth remain strong, healthy, and free from decay and disease, both of which can lead to serious dental treatments and procedures that can be timely and costly.
Pediatric Dental Emergency FAQs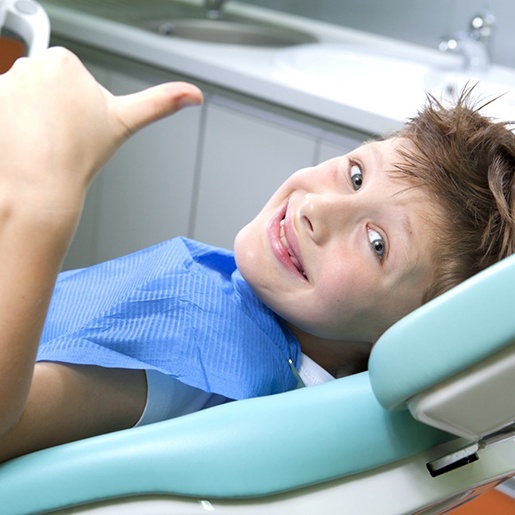 If your child has suffered a sudden oral injury and needs immediate attention, you may be looking for an emergency dentist in Willow Park. At Stroud Pediatric Dentistry, our team is ready to offer safe and effective services when your little one needs them most. We understand that you may have several concerns about our emergency dental care, which is why we've decided to answer some of the most common questions below. If you don't see what you're looking for, feel free to reach out to our friendly team today!
Should I Take My Child to the Emergency Room First for Dental Emergencies?
Believe it or not, most emergency rooms are not able to effectively treat dental emergencies. That's mainly because there's usually no licensed dental professional on staff. You should only take your child to the nearest ER if they're having difficulty breathing, a fractured or broken jawbone, a serious cut or laceration to the face, uncontrollable bleeding, or are unable to swallow. In any other situation, you should bring them to our dental office and have our team perform an emergency exam.
Are Knocked-Out Baby Teeth a Dental Emergency?
Even though baby teeth are meant to fall out, they need to stay in the mouth for as long as possible. If your child's baby tooth gets knocked out, do not try to reinsert it into the empty socket. Give our office a call and explain your situation. We'll make an appointment for your little one to determine whether or not they'll need a space maintainer. Should your child have uncontrollable bleeding or a damaged jaw, take them directly to your local emergency room.
What Should I Keep in My Emergency Dentistry Kit?
It's always a good idea to prepare for the unexpected. That said, you should keep an emergency dentistry kit with you at all times that includes:
Dental floss
An ice pack
Your dentist's contact information
A topical anesthetic like Orajel
Ibuprofen or another anti-inflammatory medication
Dental cement
Gauze pads and dressings
Cotton balls
Small sealable container
Petroleum jelly
Can I Pop My Child's Dental Abscess on My Own?
Absolutely not! You should never attempt to pop your child's dental abscess on your own. It's always better to wait and visit an office that offers emergency dental care services for children in Willow Park. Since a dental abscess is a type of dental infection, it will need to be treated right away. Popping it will only expose your child's mouth to more bacteria and irritate the area. If you fail to seek treatment for your little one, the infection could spread inside the mouth and throughout the neck, throat, and head.