June 19, 2023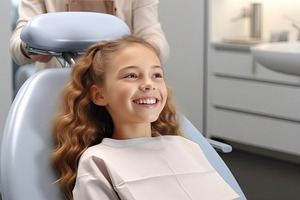 While many parents might wish it weren't so, tooth decay is all too common among children. In fact, in the United States, more than a quarter of children between ages 2 and 5 are already suffering from at least one cavity. However, in recent years, dentists have found a highly effective new option for cavity prevention: silver diamine fluoride, or SDF for short. Here's a brief look at what exactly SDF is and how it can help protect your child's smile.
What is Silver Diamine Fluoride, and How Does It Work?
SDF is a clear liquid that can be used to stop tooth decay from spreading or prevent it from happening in the first place. The fluoride component helps strengthen and remineralize the sturdy enamel that's responsible for keeping the teeth safe. The silver component has antimicrobial properties, which means it can fight the bacteria that cause cavities to form.
More and more dentists are favoring SDF, and it's not hard to see why. Not only is the process of applying it to the teeth very simple, but it can also potentially eliminate the need for drilling when it comes to treating existing cavities.
How Effective is Silver Diamine Fluoride for Preventing Cavities in Children?
In February of 2023, Science Daily published a study from New York University that looked at the effects of SDF. The study involved nearly 3,000 children who received either SDF or sealants. The results showed that SDF was able to prevent 81% of cavities, and it stopped around 56% of existing cavities from growing worse. This helps illustrate just how much of a difference SDF can make when it comes to the prevention of tooth decay.
Is Silver Diamine Fluoride Right for Your Child?
SDF may not be the right choice for every patient. Children with silver allergies are considered ineligible for the treatment. Additionally, if tooth decay has advanced to the point where it has reached the pulp of the affected tooth, SDF may no longer be viable.
That being said, if your child is a possible candidate for SDF, it's definitely an option worth considering. The treatment is completely non-invasive and can be completed relatively quickly. There's no recovery time to worry about, either; your child will be able to return to their normal routine immediately afterward.
Are you concerned about the health of your child's smile? Talk to their pediatric dentist to see if they might be able to receive SDF to keep cavities at bay.
About the Author
Dr. Robert Casey Stroud enjoys helping kids overcome their dental fears and stay comfortable during their appointments. He's proud to offer silver diamine fluoride along with various other preventive treatments to help protect his young patients from cavities. To schedule a consultation with Dr. Stroud at Stroud Pediatric Dentistry in Willow Park, visit his website or call (817) 441-2425.
Comments Off

on How Silver Diamine Fluoride Can Dramatically Reduce Your Child's Risk for Cavities
No Comments
No comments yet.
RSS feed for comments on this post.
Sorry, the comment form is closed at this time.