April 26, 2023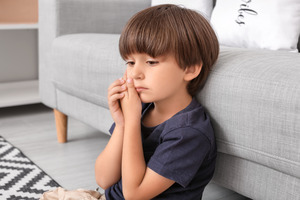 Having sensitive teeth is not a fun experience for your child. It could make brushing highly uncomfortable, and it might even cause them to avoid their favorite hot or cold foods. The sooner you help your little one find a solution for their sensitive teeth, the easier it will be for them to enjoy their everyday life! Your emergency pediatric dentist is here to explain what you need to do as a parent to help your child overcome this issue.
Start By Narrowing Down the Cause of Your Child's Sensitive Teeth
To deal with your child's tooth sensitivity effectively, you need to figure out what caused it. Some possible causes include:
Tooth Decay: When tooth decay is left untreated, it can expose the dentin layer of your child's teeth, which is more sensitive than enamel.
Erosion: Does your child drink a lot of acidic beverages? If so, their teeth might be unusually worn down, which often results in sensitivity.
Dental Damage: If your child chipped or cracked a tooth in an accident, they might experience tooth sensitivity as a side effect.
If you're not sure what the source of your little one's tooth sensitivity is, speak to their pediatric dentist. Not only can they identify any existing issues, but they'll also be able to help you figure out the best options for treatment.
Have Your Child Undergo a Fluoride Treatment
Regularly exposing your child's teeth to fluoride can make their enamel stronger and lower their chances of decay. As such, once any existing dental issues have been dealt with, the dentist may suggest fluoride treatments to help protect your child from further sensitivity issues. Depending on the practice, fluoride will be applied to the teeth in the form of a gel, foam, or varnish.
See If Your Child Can Use Toothpaste Designed for Sensitive Teeth
Some types of toothpaste have special ingredients that make them a good choice for people with sensitive teeth. However, they are normally only recommended for individuals who are at least 12 years old. Before getting any kind of toothpaste for your child, talk to their dentist to confirm that it's safe for their smile.
Encourage Your Child to Take Better Care of Their Teeth
In general, your child will be less likely to have to deal with tooth sensitivity in the future if they take proper care of their smiles. Make sure that they're learning the right oral hygiene habits. Obviously, this includes brushing at least two times a day. You should also help them get used to flossing so that they can keep the spaces between their teeth clean.
Sensitive teeth can be very uncomfortable for children, but you can help them find relief by following the tips above. And remember, whenever you're in doubt, you can always get in touch with your child's dentist to see if they have any additional suggestions.
About the Author
Dr. Robert Casey Stroud has completed advanced training at the Texas Scottish Rite Hospital and Children's Medical Center of Dallas, and he has been board-certified by the American Board of Pediatric Dentistry. He has a number of ways to help children deal with sensitive teeth, including fluoride treatments. To schedule a consultation with Dr. Stroud at Stroud Pediatric Dentistry in Willow Park, visit his website or call (817) 441-2425.
Comments Off

on How to Help a Child Who's Struggling with Sensitive Teeth
No Comments
No comments yet.
RSS feed for comments on this post.
Sorry, the comment form is closed at this time.