February 8, 2023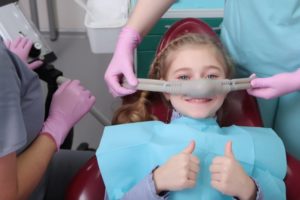 Your child's overall well-being is one of your top priorities. In addition to their physical health, you also want their oral health to be in top condition. Besides making sure your little one brushes and flosses daily, they also need to go to the dentist for their biannual checkups and cleanings. While visiting the dental office is never anyone's favorite thing to do, your child may especially have dental anxiety. Fortunately, there are dental sedation options, like nitrous oxide, to help keep them calm and at ease! But you may have specific questions about it, such as wondering if it will put them to sleep. Read on to learn the answer and much more about nitrous oxide.
First Things First: What is Nitrous Oxide?
Nitrous oxide sedation, also known as "laughing gas" or "happy air", is a very safe and effective type of dental sedation used to help patients feel relaxed throughout dental procedures. It's administered through a mask that fits over the nose. It's non-invasive and doesn't require needles or drugs, making it very appealing to people…especially children!
Will Your Child Fall Asleep with Nitrous Oxide Sedation?
Nitrous oxide will not put your child to sleep or cause unconsciousness. The main goal of this form of sedation is to help the patient relax and feel calm. It's especially helpful in alleviating anxiety so your little one can undergo dental treatments while staying completely comfortable. Although it may make them less aware of their surroundings and certain sensations, they will still be conscious while the gas is being administered. Your child won't feel any discomfort as their dentist tends to their oral health.
While nitrous oxide just makes patients of all ages extremely relaxed and at ease, they can get so comfortable that they doze off a little bit. If this happens during your child's treatment or procedure, their dentist will be able to wake them up very easily. Generally, their dentist will want them to remain awake so they can communicate about their anxiety and comfort levels so the dental team can make the necessary adjustments.
The only effects that are felt from "happy air" are very minor. When your child begins breathing in the nitrous oxide, they may experience some light-headedness or a tingling sensation in their arms and legs. Some patients have even said that their limbs feel heavy. These effects are perfectly normal and will fade within a few minutes after the dentist stops administering the sedative.
What Are the Benefits of Nitrous Oxide Sedation?
As a recap, here are some of the many reasons nitrous oxide sedation is a popular choice for many dental patients, including for children:
One of the easiest and safest forms of sedation to administer.
Significantly reduces anxiety levels.
A fast-acting and effective way to keep patients relaxed.
Helps avoid any physical discomfort during treatment.
Allows for more dental work to be done in one visit.
Effects wear off quickly, allowing for little-to-no recovery time.
Has a slight numbing effect.
If your little one needs to feel relaxed during their dental visits or they have an upcoming minor procedure, nitrous oxide may be the best option for them. Their smile will thank you for years to come!
About the Practice
Stroud Pediatric Dentistry is eager to help you keep your child's smile whole and healthy, as well as give them the best dental experience possible. Their two pediatric dentists provide a full range of comprehensive services, including sedation dentistry. By offering nitrous oxide sedation, your child will remain relaxed for any preventive or restorative dental care. To schedule an appointment, contact them through their website or call (817) 441-2425.
Comments Off

on Will Your Child Fall Asleep with Nitrous Oxide Dental Sedation?
No Comments
No comments yet.
RSS feed for comments on this post.
Sorry, the comment form is closed at this time.