December 8, 2022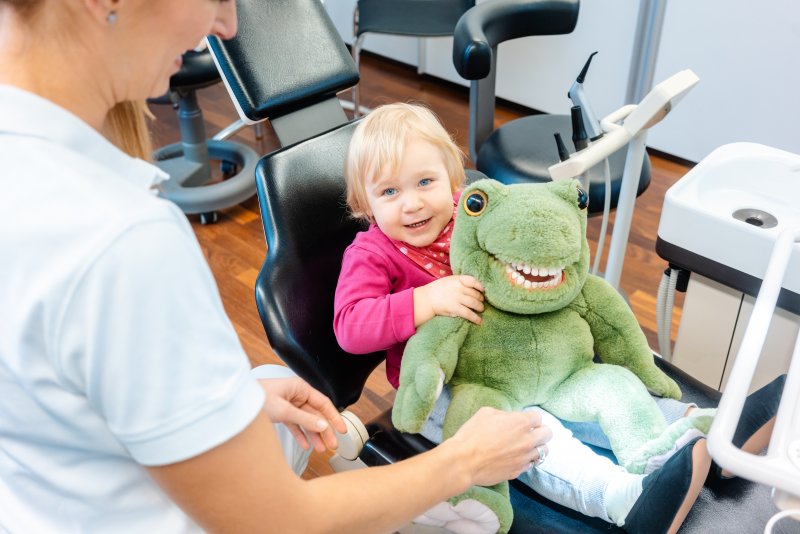 Dentistry is an interesting and exciting field, full of opportunities to learn and help others. Put that way, dentistry it seems like something that kids should have a lot of interest in!
There are kids who love the idea of being dentist, but there are many more who struggle to engage with their own oral health. If they could see the appeal of dentistry as a whole, they might be a little more interested in taking care of their own teeth. Here are a few dentistry-related toys that might get them excited about the field.
Model Teeth Playset
Part of the reason children are so anxious at the dentist's office is that they aren't familiar with a lot of the tools that dentists often use. Fortunately, there are playsets that include a lot of those tools, model teeth, and other dental accessories.
These can be a great opportunity for you to explain some of the core concepts of dentistry, and to have your child become more comfortable with the idea of what dentists do.
Play-Doh Drill 'n Fill
If your child isn't a fan of hard plastic teeth, they may appreciate being able to sculpt their own smiles. Play-Doh's Drill 'n Fill allows your child to mold a set of teeth using all kinds of wacky colors. They can also use the included drills and syringes to simulate root canals and fillings.
Treating cavities can be a scary concept for kids, so maybe seeing it from the dentist's perspective can make the prospect more palatable.
GumChucks
What about something that will help your child clean their own teeth? Flossing in particular tends to be hard for kids to manage, so something that helps them in this regard can be useful.
While not exactly a "toy," GumChucks are a fun way for kids to learn to clean between their teeth. A small strip of dental floss is attached between two plastic rods, allowing children to reach all the way to their back teeth without needing to rely entirely on their fingers.
Getting kids invested in their smiles can be a challenge; hopefully, this guide gave you some ideas for how you can help them do that.
About Our Practice
At Stroud Pediatric Dentistry, we believe that children shouldn't have to dread going to the dentist's office. Everyone on our dental team works hard to put all our patients at ease, and to ensure that they both enjoy their visit and learn something along the way. If you want your child to see the appeal of dentistry, we'd be happy to show them how good a healthy smile can be!
If you have any questions about how to get your children excited about dentistry, we can be reached at our website or by phone at (817) 441-2425.
Comments Off

on 3 Dental Toys that your Kids will Love!
No Comments
No comments yet.
RSS feed for comments on this post.
Sorry, the comment form is closed at this time.