November 8, 2022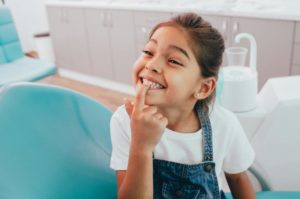 The field of dentistry dates back to at least 5000 B.C., but what about pediatric dentistry? As a parent, you already know that kids are far from just little adults; they have their own unique needs. This is especially true when it comes to their dental care. So, what exactly makes pediatric dentistry different from general dentistry? How did pediatric dentistry get its start? Why should you take your child to a pediatric dentist in Willow Park? Read on to find out!
The Beginnings of Pediatric Dentistry
The idea of dental care focused specifically on children started to develop in the early 1900s. Simultaneously, on opposite ends of the United States, two dental professionals made great strides in the pediatric field: a dentist named Dr. Alfred C. Jones, and a dental assistant named Minnie Evangeline Jordon. At the same time that Dr. Jones opened a dental hygiene school where students cleaned kids' teeth, Jordon founded her very own dental practice focused on treating children. Together, these advancements led to the American Dental Association recognizing pediatric dentistry as a specialty by the mid-1900s.
Pediatric Dentistry Today
Since more than 90% of Americans have at least one cavity by the time they become an adult, pediatric dentistry is certainly important! If not for the huge steps forward that Jordon and Dr. Jones made, children's dental care wouldn't be nearly as effective as it is now. Today, preventive care is more effective, diagnoses are more accurate, and treatment is more comfortable than it was a century ago. When a child receives excellent dental care from a young age, it leads to a healthier smile as they grow up, as well as a reduced risk of various health problems.
Why Should You Take Your Child to a Pediatric Dentist?
While a general dentist can treat patients of all ages, there are benefits to having your son or daughter see a pediatric dentist. Mainly, they have completed additional training after graduating from dental school. This training is focused specifically on treating children's oral health. Therefore, pediatric dentists have the clinical expertise to monitor young smiles as they grow and keep them in great shape. Whether you have an infant whose first tooth is starting to grow in or a teenager who is applying for colleges, a pediatric dentist is the person best equipped to preserve their healthy smile!
About the Practice
At Stroud Pediatric Dentistry, our goal is to make dental visits for kids relaxing, educational, and even fun! Our team is led by Dr. Stroud and Dr. Ball, two pediatric dentists in Willow Park, TX who take a conservative approach to keeping children's smiles healthy. They'll only recommend services that are necessary for your little one, and they'll be transparent about treatment options so that you fully understand what's going on with your child's smile. To learn more about our pediatric dental practice, you can call us at (817) 441-2425.
Comments Off

on An Inside Look at the History of Pediatric Dentistry
No Comments
No comments yet.
RSS feed for comments on this post.
Sorry, the comment form is closed at this time.