October 4, 2022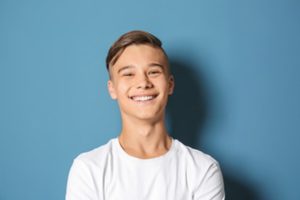 If you've been taking your child to the same dentist since they were little, you might be wondering when it's time for them to begin seeing an adult dentist. However, if your child is a teen, they might still benefit from visiting their pediatric dentist a little while longer! Here are a few reasons why you should stay the course for now—their oral health depends on it!
1. Their Jaw Is Still Developing
Even though all of their baby teeth are gone and have been replaced with permanent teeth, your teen's jaw won't stop growing until their early adulthood (usually by age 21 or so). Pediatric dentists understand this and are specially trained to monitor this growth, and for this reason, it's wise for many childhood patients to continue with their pediatric dentist until their mouth is done developing!
2. Teens Often Have Unique Dental Needs
Even though they have the permanent teeth that they'll use throughout their adulthood, your teen still has other unique dental needs that can easily be addressed by their pediatric dentist. Wisdom teeth, the third set of molars located in the back of the mouth, typically come in during the late teenage years. This can often cause pain, crowding, or even tooth decay; but pediatric dentists can often detect issues that occur with wisdom teeth as soon as they begin to appear.
Additionally, the teenage years are generally when a child when be considered for orthodontic treatment. Due to their continued growth, their jaw might not be able to keep up with permanent teeth, which can cause issues like crowding and impaction. However, these issues are all on a pediatric dentist's checklist when treating teenagers!
3. Healthy Dental Habits Are Still Being Developed
Your child might still be learning how to properly take care of themselves during their teenage years, and amidst their newfound independence, it's important to ensure that they're making choices that benefit their oral health. Pediatric dentists have a better understanding of a teen's dental needs and can help prepare them for the future when it's up to them to take care of their pearly whites. Also, teens can have unique challenges relating to their dental health suck as a risk of sports injuries, high carb/high sugar diets, and the presence of orthodontic appliances.
If you're concerned about your teen's oral health, you should know that their pediatric dentist is the best person to speak with! Knowing why this is the case will help you provide them with the best possible level of care.
About the Author
Dr. Robert Stroud received his dental doctorate from the Baylor College of Dentistry and is a proud member of several professional organizations, including Diplomate status with the American Academy of Pediatric Dentistry. His practice in Willow Park is pleased to offer many services including preventive treatment options for teens. If you have any questions about the article or would like to arrange a visit, you can contact Dr. Stroud through his practice's website or over the phone for assistance: (817) 441-2425.
Comments Off

on Why Your Teen Should Visit a Pediatric Dentist
No Comments
No comments yet.
RSS feed for comments on this post.
Sorry, the comment form is closed at this time.