August 11, 2022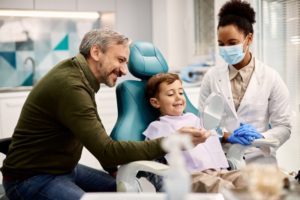 As a parent of an autistic child, you're naturally a little concerned about how their dental appointment is going to go. Even a little one without sensory issues can feel overwhelmed in this type of environment, but it's necessary for your child to enjoy a healthy smile.
You may be wondering how you can help them feel more comfortable in the dentist's office. Well, in addition to finding a dentist who offers special needs dentistry, here are four tips you can try to make the experience as painless as humanly possible.
Make Sure Your Pediatric Dentist Has Training with Special Needs
Although most pediatric dentists receive some exposure to working with children with disabilities, you'll need to know that the dental team has been specifically trained to help those with physical, mental, developmental, and sensory special needs. Before going in, having confidence in the dental team can help you feel less stress, which may have an impact on your child as well.
Ask Questions
Before making an appointment, you can certainly inquire about how the practice functions for children with special needs. What calming techniques do they use for autistic or anxious children? Will you be permitted to be in the room? Getting answers prior to the appointment can help both you and your child get ready and know what to expect.
While you're there for your child's appointment, feel free to ask questions about their dental care. If they found a cavity or other problem, what does that mean for your autistic child? What should you be doing at home to ensure their dental health? Can they recommend any specific products or techniques to make the process easier? Tap into their expertise!
Practice Beforehand
Many children with autism respond well to low-stress visual and sensory learning. As a result, you may want to consider printing out or putting together your own picture book about what is going to happen at the dentist's office. Go through the story several times before the appointment and bring it with you so that the dentist can "follow along" with the familiar story.
In addition to sharing information with your child, you could also allow them to experience the sensation of the dental instruments by either purchasing or borrowing them. Becoming familiar with these tools can give them prior interaction and help them stay calm throughout the appointment.
Come Prepared
Even with all your at-home preparation, the dentist's office is a new environment, full of different smells, sounds, lights, and other sensory triggers. That's why you should bring certain items from home to make them feel more secure.
For instance, if your child reacts to light, a pair of sunglasses can reduce their stress. Ear plugs or headphones are useful for keeping the foreign sounds to a minimum. You may also want to bring a tablet with their favorite show or movie loaded or a favorite stuffed toy to distract them from what's going on.
In the end, you and the pediatric dentist are on the same side. If you still have concerns about your child's appointment, don't hesitate to start a conversation with the pediatric dentist. Together, you can make sure your child understands what's happening and be okay with it!
About the Practice
At Stroud Pediatric Dentistry, we strive to make every patient feel comfortable and at ease. For those with special needs, our dentists show extra patience and offer accommodations, including sedation options. Dr. Casey Stroud and Dr. Michael Ball enjoy helping children of all abilities have a strong smile. If your child has autism or any other special need, let us know about it for their next appointment. You can contact us by calling the office at 817-441-2425 or by reaching out to us online.
Comments Off

on 4 Tips for Keeping Your Autistic Child Comfortable at the Dentist's Office
No Comments
No comments yet.
RSS feed for comments on this post.
Sorry, the comment form is closed at this time.