August 10, 2021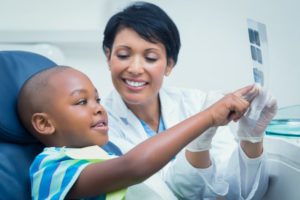 As a parent, you obviously want to do everything you can to raise your child right. However, there are a lot of different opinions on how to do that! With so much information available, it can be difficult to know what's fact and what's fiction. Thankfully, your Willow Park pediatric dentist is here to set the record straight and help you make the best decisions for your child's precious smile! Read on as we bust a few common myths about children's dental health.
Myth #1: Fillings & Crowns for Baby Teeth Are a Waste of Money
Even though baby teeth will come out eventually, it's essential to keep those little teeth healthy until they fall out! Primary teeth help guide the permanent teeth into place and are essential for helping your child learn to speak and eat. If a baby tooth becomes decayed or damaged, it needs to be repaired with a filling or crown right away for the sake of your child's oral health, quality of life, and development of their permanent teeth.
Myth #2: Cavities Only Come From Sugar
When sugar enters the mouth, plaque and bacteria feed on it and create acids that burn through enamel and cause tooth decay. However, sugary snacks aren't the only culprits causing cavities. Carbohydrate-heavy foods like bread, crackers, and cereal fuel tooth decay just as quickly and efficiently as sweet treats. Make sure you're keeping an eye on your little one's carb consumption just as much as their sugar intake!
Myth #3: Fruit Juice Is a Healthier Choice Than Water
Fruit juice may not be nearly as healthy as you think! Many companies use tricky wording and images to make their products appear healthy, but they are really pumped full of sweeteners. Even 100% fruit juice can be a problem for your child's teeth, as some varieties contain just as much sugar as a glass of soda! Water is the healthiest choice for your little one, and you should refrain from letting them sip on a cup of juice all day if you want to help prevent cavities.
Myth #4: Kids Don't Need to Use Fluoride Until They're Older
Fluorosis is a condition that causes small, hardly noticeable white spots on the teeth. Since it's brought about by overexposure to fluoride in childhood, many parents assume that means their little one should stay away from fluoride until they're older. This isn't the case! Fluoride is essential for strengthening your child's teeth against decay, and it is safe as long as they don't swallow a lot of it. That's why the ADA recommends that children younger than three or four only use a smear of fluoride toothpaste about the size of a grain of rice.
Children don't come with an instruction manual, so if you're feeling overwhelmed about caring for your child's oral health, don't hesitate to get in touch with your Willow Park pediatric dentist! They have the experience and training to help set your child up for years of happy, healthy smiles.
About the Practice
At Stroud Pediatric Dentistry, Dr. Robert Casey Stroud and Dr. Michael Ball are proud to serve the growing smiles of Willow Park and the surrounding Parker County area. With their years of experience and advanced training, they have all the specialized services your little one needs to achieve optimal oral health early in life. They're committed to helping children and parents alike see how easy and rewarding a healthy smile can be! To learn more, they can be contacted via their website or at (817) 441-2425.
Comments Off

on Busting Common Myths About Children's Dentistry
No Comments
No comments yet.
RSS feed for comments on this post.
Sorry, the comment form is closed at this time.