June 16, 2021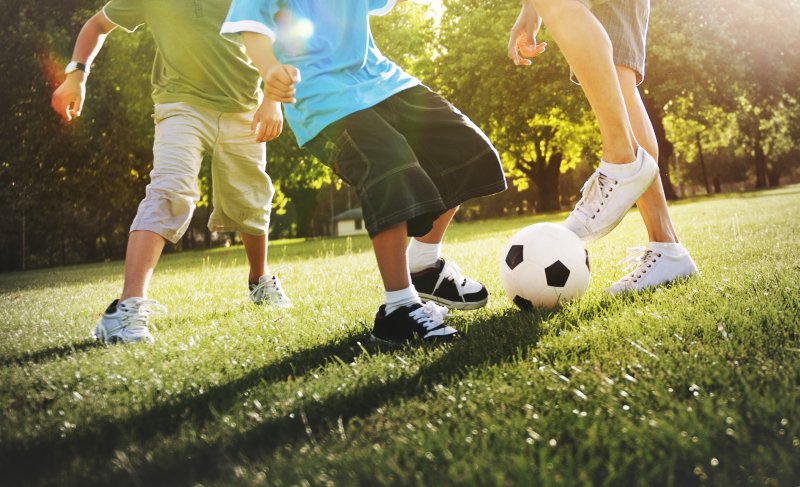 Most children love to spend their summer days outside, participating in their favorite seasonal activities. Now that school's out, your little one may be ready to go for a swim or join their friends for a quick soccer match. Unfortunately, playing full-contact sports can result in an injury if proper precautions aren't taken. Here are the three most common dental injuries, how to prevent them, and what to do if your child has a sports-related emergency.
Top 3 Dental Injuries in Sports
Did you know that about 15 million Americans experience a sports-related dental injury each year? Here are the three most common injuries:
Cracked Teeth
One blow to the face could easily result in a cracked or fractured tooth. A common symptom to watch out for is sharp pain, particularly when biting down or consuming foods at extreme temperatures. If your child has been hit in the face or mouth, schedule a dental visit ASAP to have their teeth and gums assessed for signs of damage.
Fractured Roots
A fractured root begins at the root level and works its way up to the tooth's surface. Usually, this injury occurs when an athlete receives a blow at a certain angle. Since these fractures are virtually invisible, they may only be discovered when an infection develops. Patients may need root canal therapy to prevent the infection from spreading to the pulp. Otherwise, their injury may lead to tooth loss.
Tooth Intrusion
Most sports injuries are associated with teeth getting knocked out. But sometimes, the impact can drive the teeth back into the jawbone. This type of trauma is called an intrusion. Although it happens more often with baby teeth, athletes of all ages are at risk of this injury.
How to Prevent Dental Injuries
Make sure your child always protects their teeth and jaw when participating in full-contact activities! Mouthguards are certainly a must when playing any sport that involves bats, balls, sticks, or physical contact. They guard your child's smile against cut lips, broken teeth, and other dental injuries. Don't like the price tag? Remember this – the cost of replacing a tooth is much more than that of a custom mouthguard. As an added layer of protection, encourage your child to wear a sturdy helmet.
What to Do If You Have a Sports-Related Dental Injury
If your child's permanent tooth is chipped or broken:
Collect all pieces of the tooth and place them in a sealable container
Rinse your child's mouth with warm water
Contact a dentist right away and schedule a visit
If your child knocked out a permanent tooth:
Rinse your child's mouth with warm water
Have them bite down on gauze or a clean washcloth soaked in cold water to reduce swelling and control bleeding
Once you locate the tooth, preserve it in saline solution or a container of milk
For older kids and teens, try re-inserting the tooth back into the socket and have them bite down on gauze to keep it in place
Call your dentist immediately to schedule an emergency visit
Athletes need to maintain good oral health. By following proper safety measures, your child can keep their smile safe and enjoy it for many years to come!
About the Practice
Our team at Stroud Pediatric Dentistry goes above and beyond to make dental visits a relaxing, educational, and fun experience for all our young patients. Our goal is to help them establish healthy habits that can protect their growing smiles for life. If your child sustained a sports-related dental injury, visit our website or call (817) 441-2425 to schedule an emergency visit.
Comments Off

on 3 Most Common Dental Injuries in Sports
No Comments
No comments yet.
RSS feed for comments on this post.
Sorry, the comment form is closed at this time.