March 11, 2021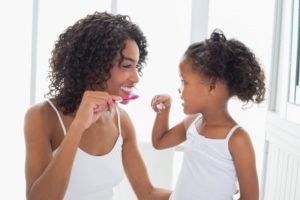 Over the past year, you've learned to do a lot of things from home. You've shopped from home, made meals at home, and taught your kid at home. Did you know that you can do a lot to help with your child's dental health at home? Along with regular checkup and cleaning appointments with your pediatric dentist, there are plenty of things you can do to naturally prevent cavities for your child.
Limit Sugar Consumption
Sugar may give your child a short-term rush of energy, but it also fuels the bacteria that cause cavities. Every now and then, a sweet treat is fine, but try to keep their sugar intake to a minimum. When they do indulge in something sugary, try to time it close to mealtime when they are already producing more saliva, which helps to neutralize acids and flush away bacteria. This timing also reduces the likelihood of overindulging in sweets.
Reduce Processed Foods and Snacks
It's not just candy and ice cream that can lead to your child developing cavities. Crackers, cookies, chips, bread, and other starchy, processed foods can stick to their teeth and form plaque. As your child gets older, limit the amount of snacking they do throughout the day. When they do snack, choose healthier foods, like whole grains, apples, or carrots.
Provide Water
The best possible drink for your child is water. Even though milk and juice may have some health benefits, they also contain sugar, which feeds the harmful bacteria in their mouth. It may require some getting used to, especially if your child is accustomed to drinking other beverages throughout the day, but stick to giving them water as much as possible. As an added benefit, most areas fluoridate their tap water, which means that your child could get an extra boost for their teeth.
Introduce Natural Cavity-Preventing Remedies
Although more research is needed, some studies have shown that certain foods or drinks can actually help prevent decay. These include shiitake mushrooms and oil pulling, which involves swishing sesame or coconut oil in your mouth and spitting it out. Cheese, yogurt, and other foods that are high in Vitamin D are also beneficial to reinforce enamel and stop decay.
Brush and Floss Every Day
Early on, it's pivotal to help your child start the habit of brushing and flossing their teeth every day. These actions may seem inconsequential at first glance, but they remove the bits of food and sticky plaque before it hardens and damages teeth. Use fluoride toothpaste to further strengthen your child's enamel. You can make this time more fun for your child by listening to music while they brush or using an app like Disney Magic Timer, Toothsavers, and Chomper Chums.
The last thing any parent needs to worry about right now is dealing with their child's toothache or cavity. Although these tips won't substitute for going to the dentist regularly, you can have a huge impact on keeping their teeth healthy and strong, so they can keep smiling.
About the Author
Dr. Robert Stroud has been practicing dentistry for more than two decades and enjoys helping young patients have positive dental experiences. He is board certified with the American Board of Pediatric Dentistry and a diplomate of the American Academy of Pediatric Dentistry. He has also had advanced training through SPEAR Education during his career. If you have questions about preventing cavities, you can contact Dr. Stroud at Stroud Pediatric Dentistry in Willow Park through his website or by calling 817-441-2425.
Comments Off

on 5 At-Home Methods of Naturally Preventing Cavities in Kids
No Comments
No comments yet.
RSS feed for comments on this post.
Sorry, the comment form is closed at this time.