February 7, 2021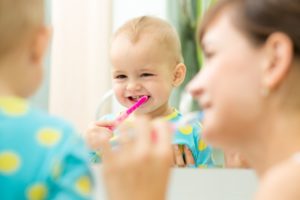 Now that your baby's first birthday is almost here, you probably have a lot on your mind. Before you know it, they'll be walking, talking, and growing up too fast! As you look forward to these exciting milestones, don't forget about their precious smile. If your child's first birthday is on the horizon, then it's time to start thinking about keeping their oral health on track. Read on to find out why it's so important to bring your one-year-old in to see your Willow Park pediatric dentist.
When Should Children Visit the Dentist?
Are those tiny pearly whites starting to appear in your child's smile? Remember, teeth are susceptible to cavities as soon as they erupt, especially baby teeth. That's why the American Academy of Pediatric Dentistry recommends that children get their first dental checkup by their first birthday. Alternatively, they should come in within six months of their first tooth erupting (whichever comes first). From there, they should continue to get checkups every six months, or perhaps more frequently if recommended by your pediatric dentist.
The Importance of Your Child's First Checkup
Many parents are surprised to hear that they should start taking their baby to the dentist so early in life. However, these appointments play several critical roles, including:
Protecting baby teeth: Even though baby teeth will eventually fall out, keeping them healthy is important for the development of your child's permanent teeth and the rest of their mouth. Baby teeth are particularly prone to cavities, but specialized services like fluoride treatments and dental sealants offer a quick, easy, effective, and safe way to protect them from tooth decay.
Monitoring oral development: As a parent, you already know that kids grow fast! Bringing your child in every six months helps your pediatric dentist monitor the development of their jaws, teeth, and other oral structures to make sure everything is on track.
Teaching parents: Parenting doesn't come with an instruction booklet. During your child's first dental appointment, your pediatric dentist will be happy to teach you all the best ways to care for your child's smile at home, including brushing and flossing techniques as well as what to be on the lookout for.
Calming dental anxiety: Your child's first dental visit introduces them to all the new sights and sounds of a dental practice in a calm, relaxing environment. This way, they're much more likely to associate dental care with positive feelings than if you wait to bring them in until they have a toothache or cavity.
Great oral health starts early in life. Bringing your child in for their first dental checkup by their first birthday will help set them up for many years of happy, healthy smiles.
About the Practice
Dr. Robert Stroud and Dr. Michael Ball of Stroud Pediatric Dentistry have years of experience caring for the growing smiles of Willow Park and the surrounding communities. As pediatric dentists, they have advanced specialized training in meeting the unique oral health issues that children face. What's more, they strive to make dental care fun, informative, and relaxing for children and parents alike. To learn more about what to expect at your child's first checkup, they can be contacted via their website or at (817) 441-2425.
Comments Off

on If Your Child's 1st Birthday Is Coming Up, So Is Their 1st Dental Checkup!
No Comments
No comments yet.
RSS feed for comments on this post.
Sorry, the comment form is closed at this time.