January 28, 2021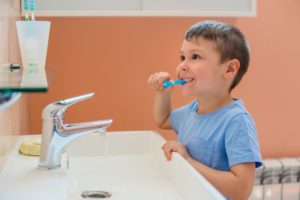 When it comes to the winter season, there is a lot that children look forward to, such as the holidays and breaks from school. Although it brings a lot of fun, winter also brings cold and flu season in Aledo. No parent ever wants to see their child feeling bad, but the reality is that sometimes, sickness is unavoidable. In addition to taking good care of your child's body while they're sick, it's also just as important to prioritize their oral health so that they can heal faster. If you do find yourself dealing with an illness of some kind this season, your local pediatric dentist has some tips to share to keep their teeth healthy throughout the process.
How to Maintain Your Child's Oral Health if They Are Sick
Vitamin C and fluids are great ways to prevent illness and boost the immune system, however, everyone gets sick from time to time. When you don't feel well, oral health maintenance can often take a back seat, but it's an extremely important part of the healing process. Here are a few practical measures you can take to keep your child's teeth healthy while you're nurturing them through healing so that they will feel well sooner:
Make Sure Their Teeth Get Brushed
If your child is dealing with cold or flu-like symptoms, there's a good chance that a fever or body aches are present. Coaxing them out of bed to get up and brush their teeth might not be an option. Instead, try bringing their toothbrush and toothpaste with a cup of water to them to rinse and spit in. That way they can do it from the comfort of their bed!
Have Them Gargle with Warm Salt Water
Your child might contest this, but warm salt water has wonderful healing abilities. Not only does it soothe a sore throat or help common cold sores to heal faster, but it also rids their mouth of bacteria and germs. This gives their immune system less to fight against so that they can get well quicker.
Replace Their Toothbrush
Many people don't even consider replacing their toothbrushes after they've been sick, and most illnesses don't exactly have a scheduled end date. If your child does get sick this season, make it a priority to switch out their old toothbrush for a new one once they start feeling better so that they don't end up reinfecting themselves from bacteria and germs left on the bristles.
Keep Them Hydrated
Any doctor will tell you that keeping them hydrated is one of the best things you can do to help your child get well more quickly. In addition, it also protects their mouths from drying out and bacteria spreading. Plus, if their nose is stuffy, they've likely been breathing out of their mouth, and staying hydrated can help to keep their lips from chapping.
If you're a parent or caretaker, your main priority when your child is sick is to see them feeling better and back to being themselves as soon as possible. Make sure to follow these tips to help keep their oral health in good condition, and you're guaranteed to see a difference!
About the Author
Dr. Robert Casey Stroud and Dr. Michael Ball are passionate about teaching children the importance of good oral hygiene from a young age so that they can have healthy teeth throughout their lives. Their decades of experience and combined skills make them the best choice for your pediatric dentist in Willow Park. They prioritize making children feel comfortable and welcomed at their practice, and their goal is to build long-lasting relationships with each of their patients. Are you ready to schedule your child's next dental checkup? You can do so online or call (817) 441-2425.
Comments Off

on Keeping Your Child's Teeth Healthy During Cold and Flu Season
No Comments
No comments yet.
RSS feed for comments on this post.
Sorry, the comment form is closed at this time.