December 25, 2020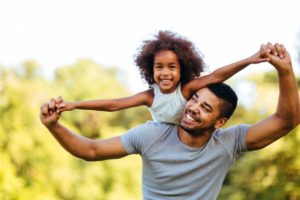 Many parents wonder whether their babies require dental insurance, and the answer is, yes! The American Academy of Pediatric Dentistry recommends that you bring your little one in for their first checkup and cleaning by the time their first tooth grows in, which is usually around when they're six to 12 months old. If your infant is covered under your insurance plan and you stay in-network with your provider, then you shouldn't need to pay out-of-pocket for their visit. Another fact to keep in mind is that having a baby counts as a qualifying life event, which means you can make changes to your plan when your child is born so you can include them in your coverage.
What Coverage Does Your Plan Offer for Your Child?
For toddlers and children, your plan should include similar coverage to your own. However, it's important to keep in mind that every plan varies, so to find out the specifics of yours, you'll need to contact your insurance company directly.
Most children's dental insurance in Aledo covers the following services:
Two semi-annual oral checkups
Routine X-rays to help find hidden problems
Bite identifications to determine if your child needs orthodontic treatment
Emergency dental care for toothaches, knocked-out teeth, etc.
Two dental cleanings a year, spread six months apart
In addition to these preventive services, many plans cover a portion of treatments, including dental sealants, tooth-colored cavity fillings, and fluoride treatments.
How Often Should Your Child Visit the Dentist?
Just like for adults, it's important that your child visit the dentist every six months for a checkup and cleaning. These will ensure that their smile is developing properly and aid in the early diagnosis of common oral conditions, like dental decay. In addition, your child's pediatric dentist can provide them with tips, tricks, and education about brushing, flossing, and their oral health to help them become diligent about taking care of their smile at home.
Most dental insurance plans renew on January 1st, which means that you'll need to maximize your investment and schedule your child's dental appointment before then if you haven't already. That way, you can save money while staying on top of your little one's health!
About the Author
Dr. Robert Stroud has over two decades of experience providing small, developing smiles with high-quality dental care. He enjoys working with children and helping them become passionate about taking care of their smiles. From infants to toddlers, children, and teens, he's happy to accommodate each of his patients, including those who have special needs, so they can feel comfortable and at-home in his office. During the COVID-19 pandemic, he's also offering convenient family appointments, so you can bring all of your children in at once. For questions or to schedule your child's checkup and cleaning before their dental insurance plan renews, visit Stroud Pediatric Dentistry's website or call 817-441-2425.
Comments Off

on What Does Your Child's Dental Insurance Plan Cover?
No Comments
No comments yet.
RSS feed for comments on this post.
Sorry, the comment form is closed at this time.