November 19, 2020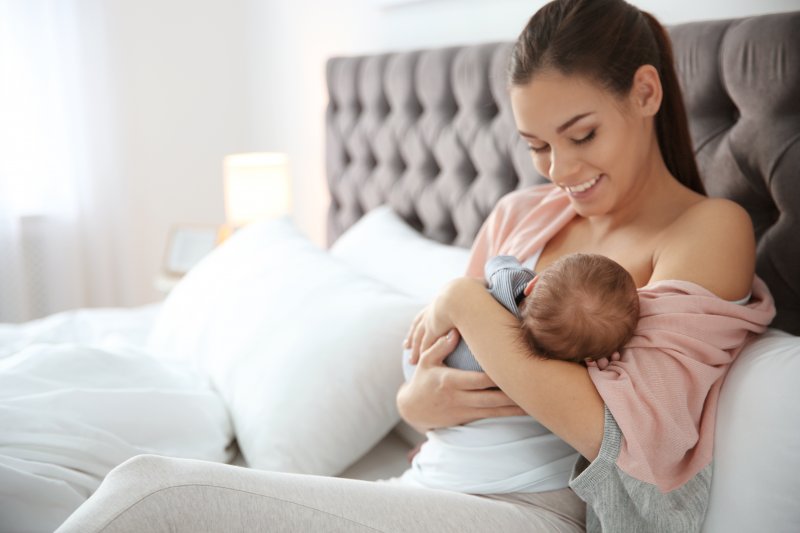 As a parent, you know your entire worldview shifts the moment you see the little plus sign or smiley face. Flash forward nine months, when you see your little one wrapped up in your arms, you know you would do anything to keep them safe and happy. If you've made the personal decision to breastfeed your child, then there are a few things you should know about keeping their teeth and gums in good condition. Read on to learn more about nursing and oral health in Aledo and Willow Park.
#1. Breastfeeding May Help Build a Better Bite
Breastfeeding is widely known for its ability to reduce health risks, like asthma, ear infections, and obesity. But did you know it might build a better bite as well? According to two recent findings from Pediatrics and the Journal of the American Dental Association, babies who were exclusively breastfed for the first six months were less likely to have open bites, crossbites, and overbites. So, while breastfeeding can't guarantee that your little one won't ever need braces, it may help reduce their risk of having teeth alignment issues.
#2. You Don't Have to Wean When Your Baby Gets Teeth
In short, you should stop breastfeeding when you think it's best for you and your baby, not just because their teeth are coming in. In fact, the American Academy of Pediatrics recommends breastfeeding for the first 12 months of their life and the World Health Organization encourages moms to go to 24 months! Since a baby's first tooth typically emerges between 6 and 12 months, it's likely they will have more than one tooth within that timeframe. Therefore, if you don't feel you or your little one are ready to stop, don't let their emerging teeth get in the way.
#3. Breastfed Babies Can Still Get Cavities
For decades, dentists have warned parents against putting their baby to sleep with a bottle since it significantly increases their risk of tooth decay. However, few parents are aware that breastfed babies can get cavities as well. After all, breastmilk contains sugar! To keep your baby's mouth cavity-free, gently wipe their gums with a clean, moist gauze pad or washcloth daily. Once their teeth break through the gum line, begin brushing their teeth twice a day.
As a parent, nothing lights up your world quite like your child's smile. To keep it in pristine condition through each stage of their life, make sure to prioritize their oral health, even when you are breastfeeding.
About the Author
Since earning his Doctor of Dental Surgery from Baylor College of Dentistry over 20 years ago, Dr. Robert Casey Stroud has helped countless little smiles achieve pristine oral health. Today, he is Board-Certified with the American Board of Pediatric Dentistry and is a diplomate of the American Academy of Pediatric Dentistry. If you are a breastfeeding parent and have a question about caring for your little one's growing smile, visit his website or give him a call at 817-441-2425.
Comments Off

on 3 Oral Health Facts for Breastfeeding Parents
No Comments
No comments yet.
RSS feed for comments on this post.
Sorry, the comment form is closed at this time.