August 10, 2020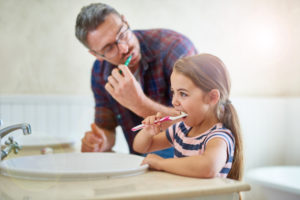 Teaching your child healthy dental habits early in life is essential for their long-term oral health. Unfortunately, your toddler probably isn't thrilled about learning to floss or remembering to brush every day. How can you help them establish these important lifelong habits? Try making dental care more fun and engaging! Read on as your Willow Park children's dentist shares some fun activities and tips to get your little one excited about taking care of their precious smile.
Use Fun Dental Products
Your son or daughter will be more interested in oral hygiene when there are fun products involved. Consider getting them a toothbrush with their favorite cartoon character on it or a fun-flavored toothpaste or dental floss they'll enjoy.
Make Toothbrushing Time More Exciting
Two minutes of brushing can feel like forever to a toddler. Help them pass the time by playing a catchy, upbeat song or reading to them while they brush. When brushing becomes more entertaining, they'll look forward to cleaning their teeth!
Practice Flossing with Blocks
To help your son or daughter understand flossing better, try placing bits of play dough between toy blocks. Then give them some yarn and have them practice removing the dough. This will help fine tune their motor skills and practice flossing.
Teach Proper Brushing with an Egg
You can demonstrate the power of brushing by dipping a hard-boiled egg into a dark-colored liquid. Then have your son or daughter brush the egg with a toothbrush and toothpaste to remove the discoloration. Not only is this a fun activity, but it will show your child just how important and effective toothbrushing is.
Read Books About Dental Health
Does your little one love being read to? There are plenty of children's books aimed at teaching them the importance of dental health and regular dental checkups. The bright colors and familiar characters can help demystify the process of both for your child.
Try Using a Dental App for Kids
In this age of technology, you can help your child practice better oral hygiene with an app on your smartphone. There are a wide variety of dental apps designed for children that include everything from fun brushing timers to games that help them practice proper techniques.
Play Pretend Dentist
If your child has a dental appointment coming up, you can help them prepare for it by practicing at home. Have them sit in a chair while you count their teeth out loud with a toothbrush. This way, they'll get used to the idea of having someone look at their teeth and feel less nervous when visiting their Willow Park dentist.
Remember, it's never too early to help your son or daughter build healthy dental habits. The simple lessons you teach them now will go a long way in setting them up for a lifetime of happy, healthy smiles!
About the Practice
If you're looking for an exceptional and experienced children's or special needs dentist in Willow Park, TX, look no further! Our highly-trained team at Stroud Pediatric Dentistry goes above and beyond to help growing smiles of all ages and backgrounds stay happy and healthy. We strive to make every appointment as fun, comfortable, and educational as possible and always put a focus on helping children establish healthy oral habits. To learn more, we can be contacted via our website or at (817) 441-2425.
Comments Off

on How to Help Your Little One Establish Healthy Dental Habits
No Comments
No comments yet.
RSS feed for comments on this post.
Sorry, the comment form is closed at this time.