April 30, 2020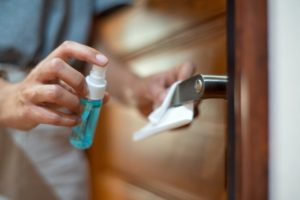 As a parent, there's nothing more important to you than your child's safety. Even though the COVID-19 pandemic is still happening, your child may have oral health problems that need to be treated. That's why their pediatric dentist is taking several measures and following the CDC's guidelines to ensure that they stay safe while getting the high-quality dental care necessary. Read on to learn more about their safety guidelines and when you can take them in for a visit.
Scheduling Your Child's Dental Visit During COVID-19
Your pediatric dentist in Willow Park is open and accepting appointments, so you can schedule their visit at any time. They're also putting over 16 additional safety measures in place to ensure that you and your child have a safe and worry-free experience.
Safety Precautions Being Made By Your Pediatric Dentist
Not only is your child's pediatric dentist following strict CDC guidelines, but they're also implementing even more precautions to keep their patients safe during the threat of COVID-19. Here are 16 disinfection and safety steps they're following to make sure that you feel comfortable scheduling your child's appointment:
Advanced staff training in additional awareness and prevention.
Daily staff health checks, including symptom screening and no-contact temperature readings.
No handshakes or hugs while greeting customers.
No office tours for new patients.
Changing work clothes at work means that we'll always be wearing clean scrubs in the office.
Virtual waiting room allows us to minimize office traffic.
No patient gloves allowed minimizes the risk of cross-contamination
Sequenced patient scheduling allows us to allocate more time for cleaning.
Patient pre-screenings when you arrive at our office.
Social distancing in place throughout the office.
Sanitize and disinfect all instruments, equipment, and surfaces after each appointment.
CDC-approved instrument sterilization.
Front desk staff will always be wearing masks as well as our back of the house staff.
Chairside suction minimizes aerosol contamination risk.
HEPA air filtration cleans air in the office.
No magazines or waiting room activities.
If you're concerned about your child's safety, you can always contact their pediatric dentist directly and ask them more about what precautions they're using and how they can keep your little one safe while they get the dental care they need. Because your child's mouth is still developing, it's important to address any oral concerns before they have the ability to cause permanent damage to their mouth. That way, their smile can grow to be healthy and happy as an adult.
About the Author
Dr. Robert Stroud has over two decades of experience taking care of children's smiles. He enjoys being able to create a comfortable and anxiety-free environment for them to learn the techniques and knowledge they need to keep their smile healthy and cavity-free for life. He is also a board-certified pediatric dentist and a diplomate of the American Academy of Pediatric Dentistry. For questions about safety measures or to schedule an appointment for your child, visit Stroud Pediatric Dentistry's website or call 817-441-2425.
Comments Off

on When Will it Be Safe To Take Your Child Back To Their Dentist?
No Comments
No comments yet.
RSS feed for comments on this post.
Sorry, the comment form is closed at this time.