March 30, 2020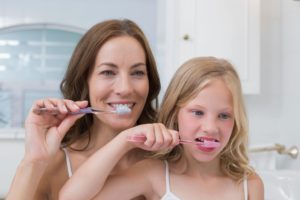 More people than ever before are now self-quarantining at home because of the COVID-19 pandemic. If you're a parent, that means spending more time with your kids than you normally do during the school year. Since your children are stuck at home all day without as strict a routine as they're usually under at school, they might be more prone to snacking on sugary items throughout the day and forgetting to brush and floss. Luckily, a pediatric dentist is here with some tips on how to get your kids to still take care of their teeth while under quarantine.
Let Them Pick Out Their Toothbrush
The next time you take your son or daughter to the grocery store (or order groceries online, which is safer these days), allow them to pick out their own toothbrush. Let them select one with their favorite color or cartoon character on it. Kids are much more likely to want to brush their teeth if they had some level of input in the purchasing process.
Brush and Floss Together
Set aside some time to clean your teeth with your child every morning and every night before bed. Brushing and flossing together can show your little one that oral hygiene isn't a punishment, but rather something that everyone does regardless of age. To make it a little more interesting, hum or dance a little as you brush. You could also turn it into a game by having your child copy you.
Tell Them What Their Toothbrush Does
Kids are less likely to brush if they don't know what the point of the activity is. Explaining to them that brushing helps keep painful cavities at bay will help them see why exactly they need to clean their teeth twice a day.
Create a Rewards System
Positive reinforcement works a lot better for most kids than just the threat of cavities. Create a calendar or chart. Place a fun sticker every day your child remembers to brush and floss all on their own. Once an entire row of the chart is filled up, treat them to something fun, like allowing them an extra hour of Internet use. Just be sure the reward doesn't have too much sugar!
As touch as it can be staying home all the time with your children, you still need to get them to clean their teeth as much as possible. Sticking to these tips should help.
About the Author
Dr. Robert Stroud is a Board-Certified pediatric dentist in Willow Park, TX whose career in the dental field spans more than 20 years. He is also a diplomate of the American Board of Pediatric Dentistry. Because of COVID-19, his practice is currently only treating dental emergencies, like a serious toothache or a broken tooth. If your child experiences a problem like this, you can contact Stroud Pediatric Dentistry at (817) 441-2425.
Comments Off

on How to Get Your Kids to Take Care of Their Teeth While Stuck at Home
No Comments
No comments yet.
RSS feed for comments on this post.
Sorry, the comment form is closed at this time.