February 7, 2020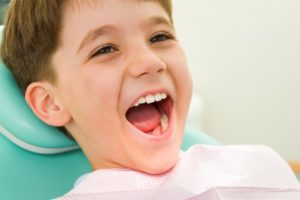 Did you know that tooth decay is the number one most common chronic childhood disease? In fact, roughly 60% of American children experience tooth decay by the age of five according to the American Academy of Pediatric dentistry. Unfortunately, this means that try as you might, it's likely that your little one will develop a cavity at some point. Your pediatric dentist in Willow Park answers some important questions about tooth decay in children and how you can best protect your child's precious smile.
Do Cavities in Baby Teeth Need to Be Filled?
Many parents wonder if cavities in baby teeth really need to be filled since these teeth will fall out eventually. However, a cavity could easily cause a baby tooth to feel sensitive and painful if left untreated. Eventually, it may even need to be pulled out.
Primary (baby) teeth are designed to hold space in a child's jaw until the permanent tooth breaks through the gumline. A decaying primary tooth could influence the health of the developing permanent tooth underneath. If the primary tooth is pulled, the permanent tooth may come in crooked and your child may have difficulty eating properly or speaking clearly.
What Types of Fillings Are Used for Children's Cavities?
When it comes to treating cavities, the two most common options are:
Amalgam fillings: These fillings are created with a mixture of metals called amalgam. While they are incredibly strong, they do require more drilling and could expand and crack over time. Additionally, they contain a toxic material called mercury, though the Food and Drug administration reports that they are safe to use.
Composite fillings: Metal-free fillings are created with a tooth-colored composite resin. This substance isn't as durable as amalgam, but it is far more natural looking. It also binds directly to the tooth to support its structure and requires less drilling.
What Are the Benefits of Seeing a Pediatric Dentist?
Getting a cavity filled can be a stressful experience for any patient regardless of age. However, how your child's tooth decay is treated can influence how they see dental care for the rest of their lives. Pediatric dentists are specially trained in:
Caring for the unique needs of primary teeth.
Creating a welcoming and friendly environment.
Teaching children about oral health in a fun and understandable way.
Calming fear and anxiety in children during treatments like fillings.
Helping children feel as comfortable, confident, and at-ease as possible during their appointment.
Going to the dentist or getting a cavity filled may never be fun for your son or daughter, but it doesn't need to be a dreaded experience either. Your Willow Park pediatric dentist can easily and comfortably treat your little one's tooth decay so they can get back to enjoying their happy, healthy, and cavity-free smile!
About the Practice
Stroud Pediatric Dentistry is dedicated to serving the young smiles of Willow Park, TX and the surrounding communities. Our highly trained pediatric dentists Dr. Robert Stroud and Dr. Michael Ball have years of experience providing children with high-quality dental care and helping them overcome any negative feelings associated with the dentist's office. If your little one has a cavity, they would be thrilled to give them the comfortable, relaxing, and efficient treatment they deserve. To learn more, feel free to contact them via their website or at (817) 441-2425.
Comments Off

on Big Questions About Cavities in Your Little One's Smile
No Comments
No comments yet.
RSS feed for comments on this post.
Sorry, the comment form is closed at this time.