January 24, 2020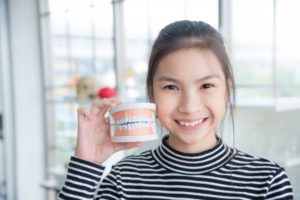 As a parent, there's one thing you're not willing to compromise on, and that's the quality of care that your child receives. It makes sense that you would prioritize their health over everything else, which is why you're looking into whether it's better to schedule their first dental appointment with a general or pediatric dentist. Read on for four reasons you shouldn't hesitate to take your child to a professional who's specially trained to take care of growing smiles.
A Unique & Fun Environment
Pediatric dentists strictly treat infants, children, and teens up to the age if 18. That means that they have ample experience taking care of growing smiles and providing children's dental treatments, including dental sealants, fluoride treatments, frenectomies, and checkups and cleanings. Because of this, they have a lot of practice helping children feel relaxed and comfortable at the dentist's office. This means that your child will be more likely to have a good experience and not have dental fears or phobias when they get older. They also focus on giving children the tools and knowledge they need to maintain good oral health as adults, reducing the risk of your little one developing oral health problems down the road.
Sensitive to Patients With Special Needs
If your child has any special needs, taking them to see a pediatric dentist will ensure that they get the high-quality and attentive care they need. They're focused on working with parents to create a plan to tackle oral health problems before they progress, that includes helping children with special needs navigate factors that can increase their risk of developing dental issues like cavities. Whether your little one has physical limitations, is sensitive to their surroundings, or has a dental phobia, a pediatric dentist's office is equipped with the technology and tools needed to children who have special needs have a more enjoyable experience.
Specially Trained to Care For Children's Mouths
The most important reason to bring your little one to a pediatric dentist is because they're specially trained to take care of developing and fragile smiles. Pediatric dentists complete an additional two to three-year residency after they graduate dental school where they gain advanced experience and training on how to fix oral developmental issues to protect and preserve your child's teeth.
Stress-Free Visits For You and Your Child
Children's behavior can be unpredictable sometimes, which can cause parents to feel a wave of anxiety before they bring their little one in for an appointment. Fortunately, the staff in pediatric dental offices are well-versed in helping children feel calm and entertained, taking a weight off of your shoulders. That way, you'll be able to know that no matter what happens, the situation will be professionally and confidently handled in a judgment-free environment.
Making sure that your child has the highest quality dental care while they're young will ensure that they have the treatments and knowledge they need to keep their smiles healthy for years to come. With advanced and specialized training, pediatric dentists can ease your worries as a parent and take the best care of your little one's priceless grin.
About the Author
Dr. Robert Stroud has over two decades of experience helping parents feel at-ease that their child's smile is in capable hands. He loves working with children and helping them overcome any fear or anxiety that they experience when they visit the dentist by creating a fun and exciting environment for them to learn about their oral health. He is board-certified with the American Board of Pediatric Dentistry and is a diplomate of the American Academy of Pediatric Dentistry. For questions or to schedule an appointment for your child, visit Stroud Pediatric Dentistry's website or call 817-441-2425.
Comments Off

on 4 Reasons Your Child Should See a Pediatric Dentist
No Comments
No comments yet.
RSS feed for comments on this post.
Sorry, the comment form is closed at this time.